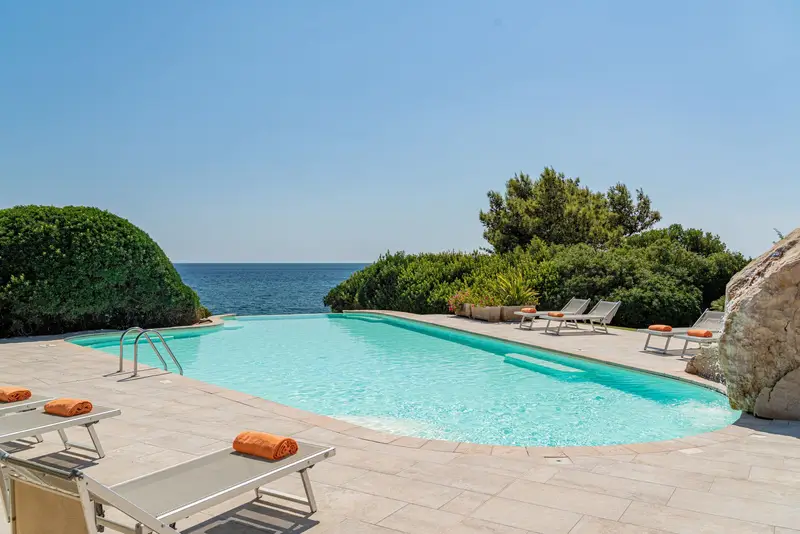 Sea and pool
A vacation of beauty and wellbeing
Close your eyes and relax
The Hotel Punta Negra is a paradise where you can unplug yourself from the rest of the world. Dive into a large seawater pool and regenerate body and mind in the hydro-massage pool. Enjoy an intimate sandy beach in front of a calm crystalline sea. Relax on a spacious green lawn with breathtaking views. Close your eyes and let your dream begin.
Two seawater swimming pools
The Hotel Punta Negra in Alghero boasts a large seawater pool, an area completely devoted to your wellbeing. Next to it is a small pool for the children to enjoy.
Depth:
140/160cm adult pool
70cm pool for children
Vanishing pool with hydro-massage
Immerse yourself in the vanishing pool, filled with sea water and equipped with a hydro-massage function. From here you can gaze out at breathtaking views of the deep blue Alghero Bay and the many shades of green of the surrounding Mediterranean vegetation.
Depth:
100cm
A small furnished beach protected from the wind. The water is crystalline, with gorgeous hues that go from green to turquoise, and the sand is white, surrounded by rocky cliffs. During winter the beach is covered in oceanic posidonia leaves, proof of the purity and excellent health of the waters of our sea.
Green lawn with umbrellas and sun beds
Next to the beach is a spacious green lawn furnished with sun beds and umbrellas, yet another relaxation area for our guests to enjoy.
Useful information
Beach facility from June 15th to September 30th free of charge for hotel guests
Pool and beach bather assistance service
From 9am to 1pm, and from 3:30pm to 6:30pm.
Hotel Punta Negra
Regione Punta Negra - 07041
Alghero, Sassari, Italy
GE.S.T.A Srl - VAT 00900300906