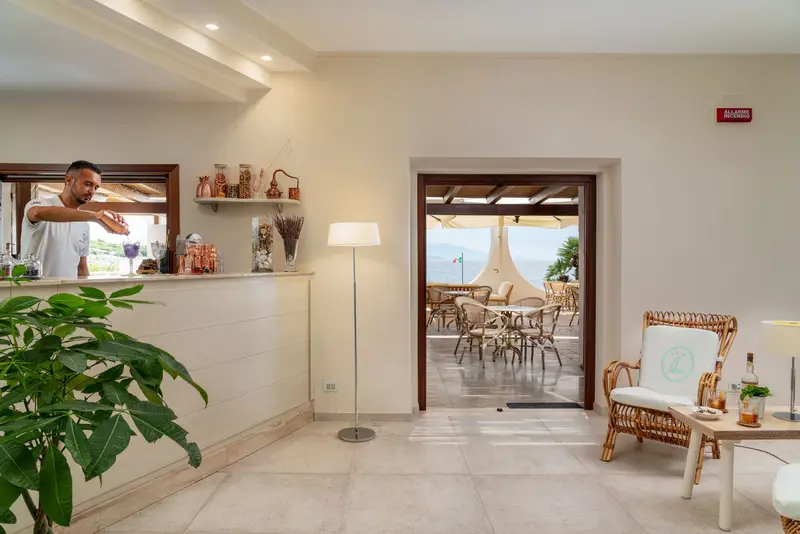 All the amenities
Exclusive comforts
for your Sardinian vacation
The Hotel Punta Negra offers all of its guests a wide variety of amenities for a completely relaxing vacation. An intimate private beach with crystalline water, two large pools of sea water and a lawn with sun beds and umbrellas. And for your dining pleasure, you have a choice of two restaurants to enjoy fine Mediterranean cooking and the flavors of traditional Sardinian cuisine.
Our guests love:
the cocktail bar
the bike rentals
the concierge for car and motorcycle rentals
the concierge for sail or motor boat rentals
the concierge for transfer services
the private parking (un-guarded)
Relaxation here knows no limits. Aside from the beach, there are two large seawater pools, one of which has a hydro-massage function. Sun beds, umbrellas and a mini-pool for the little ones.
A small private beach where you can relax on sun beds and enjoy the warmth of the sun of the Coral Riviera as a cooling breeze from the crystalline water wafts over you. The sea is not deep and has a sloping sandy bottom, ideal for swimming
Those who prefer nature's own green can relax at the furnished lawn next to and connected to the beach. The scenery from here has no equal!
The Punta Negra is the restaurant for guests staying with us in half board. A delicious daily menu is accompanied by a rich buffet of vegetables.
Facing the sea, graced by candlelight, La Luna is the à la carte restaurant of the Hotel Punta Negra. It is open for dinner only from June to September and offers traditional Sardinian cuisine cooked with locally sourced ingredients. Reservations are requested.
The Hotel Punta Negra is a marvelous venue in which to celebrate your very special day. Nestled on the Gulf of Alghero, you'll be surrounded by the green of the pine groves at the edges of the enchanting Porto Conte Park.
There are so many things you can do during your vacation at the Hotel Punta Negra. The front desk staff is always happy to give advice about fun sports activities or help you plan an interesting excursion to explore the surrounding areas.
Nestled in the lush green of nature, the massage area is in a reserved area of the hotel, a perfect place to treat yourself to some real relaxation time during the cooler moments of the day.
Hotel Punta Negra
Regione Punta Negra - 07041
Alghero, Sassari, Italy
GE.S.T.A Srl - VAT 00900300906