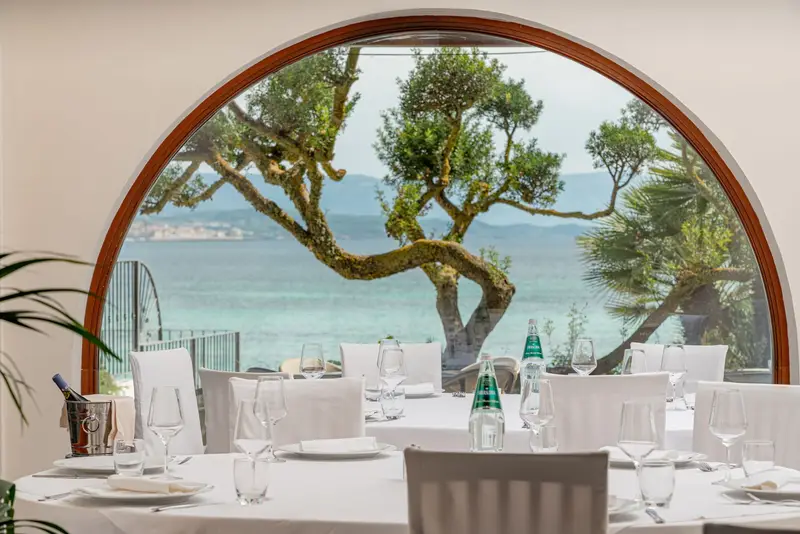 Punta Negra Restaurant
The flavors and aromas of the island
The Punta Negra is the restaurant reserved for our half board guests. The indoor dining room is graced with soft harmonious colors and looks out over the sea view veranda. It offers diners a rich buffet of vegetables and a daily menu featuring traditional Sardinian and Italian cuisine.
The Punta Negra Restaurant welcomes you each morning with a fragrant espresso or creamy cappuccino and a rich and varied breakfast buffet featuring sweet and savory, fresh fruit, yoghurt, pastries and croissants, local cheese, scrambled eggs and bacon. Special diet items available.
It's always time for an aperitif at the Hotel Punta Negra!
We await you with an international and personalized drinks menu that gets its inspiration from the aromas and flavors of our island.
Served on the panoramic sea view terrace, the lunch menu offers a wide array of hot and cold pasta dishes, grilled meat or fish, fabulous salads, delicious side dishes and dessert.
The Punta Negra Restaurant offers a different fish and meat menu every day. There are also traditional Sardinian dishes, as well as a varied vegetable and delicious homemade desserts buffet. The restaurant is reserved for our half board guests (drinks are not included).
Listen to our guests
The restaurant is practically on the beach… the varied menu includes typical traditional Sardinian dishes. Fabulous desserts!
Carefully prepared and plated dishes. The fish was always exquisite! Highly recommended!
silviafD2399LK
TripAdvisor
Hotel Punta Negra
Regione Punta Negra - 07041
Alghero, Sassari, Italy
GE.S.T.A Srl - VAT 00900300906